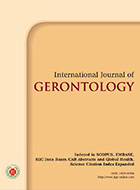 International Journal of Gerontology
Original Article
Death Preparation among Community-Dwelling Chinese Older Adults in Hong Kong
page 262~265
Supplementary Material
No data
Abstract
Background: Hong Kong is experiencing population aging, but there was little research on death preparation. It is because discussing death is taboo in Hong Kong-Chinese cultural context. For previous research in Hong Kong, respondents were often drawn from special populations, such as hospitals, nursing homes, or universities. This research asked community-dwelling older adults' views on death preparation, to provide a different angle to results collected from nursing homes or hospitals.
Methods: The targeted respondents were people aged 55 or above. 282 questionnaires were collected from the random sampling method in a residential area in Kwun Tong. Respondents were asked whether they would prepare for death, and had attended death education, along with six statements related to anxiety and spirituality.
Results: Only 31.7 percent of the respondents would prepare for death in this study. The result suggested that 92.4 percent of the community-dwelling older adults never attended any life-and-death education. This study found 'feeling uneasy about death' (odds ratio = 11.48, p < .01), 'fear of the loneliness of death' (odds ratio = 6.06, p < .05), 'setting the final goal of life' (odds ratio = 5.49, p < .01), and 'reflecting death' (odds ratio = 2.98, p < .05) predicted death preparation.
Conclusions: Medical professionals and elderly service providers could start with education or focus on psychological attitudes to encourage people to prepare for death early, as neither death education nor death preparation is common in Hong Kong.