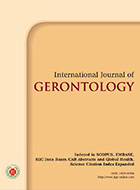 International Journal of Gerontology
Original Article
Fasting Blood Interleukin-1β and Interleukin-6 Levels as Predictors of Agitation in Patients with Alzheimer's Disease
page 255~259
Supplementary Material
No data
Abstract
Background: The increased prevalence of Alzheimer's disease (AD) represents an important public health issue in most countries worldwide. Interleukin-1β (IL-1β) and IL-6, which are inflammatory cytokines, are involved in the pathogenesis of AD; however, their role in agitation associated with AD remains unclear. To assess the accuracy of blood IL-1β and IL-6 as predictors of agitation in patients with AD, we examined the relationship between the levels of these interleukins and the appearance of agitation.
Methods: We used the clinical dementia rating (CDR) scale as an indicator of the severity of dementia as well as blood IL-1β and IL-6 levels in the morning and evening in 40 elderly patients who were institutionalized in an elderly nursing home.We followed up these patients and evaluated agitation using the modified overt aggression scale (MOAS) for one year.
Results: MOAS results indicated that the initial values for CDR as well as IL-1β and IL-6 levels in the morning and IL-1β levels in the evening were significantly higher in patients with a high MOAS score than in those with a lowscore. A multiple logistic regression analysis revealed that CDR values and IL-1β and IL-6 levels in the morning significantly contributed to a higher MOAS.
Conclusion: The results showing higher IL-1β and IL-6 levels in the morning prior to the appearance of agitation in AD patients confirm the role of these interleukins in agitation, and suggest that they are useful predictors of agitation in these patients.