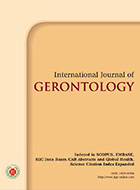 International Journal of Gerontology
Case Report
Central Venous Catheterization via the Mid-Thigh Femoral Vein in a Morbidly Obese Patient
page 403~405
DOI: 10.6890/IJGE.202210_16(4).0018
Yu KP, Yang YJ, Chang GCC, et al. Central Venous Catheterization via the Mid‐Thigh Femoral Vein in a Morbidly Obese Patient. Int J Gerontol. 2022;16(4):403-405.
Supplementary Material
No data
Abstract
Thick soft-tissue and redundant skin folds seen in obese patients may lead to difficulties during central venous catheter (CVC) insertion. Here,we describe the case of a morbidly obese patient (298 kilograms) in respiratory failure and shock in whomwe performed central venous catheterization via the mid-thigh femoral vein to administer fluids and drugs, while also executing a tracheostomy.We found that CVC insertion via the mid-thigh femoral vein is a fast and feasible alternate procedure in cases where catheterization of the internal jugular vein or the subclavian vein are challenging or contraindicated. Importantly, we show that dressings were clean and easy to maintain.