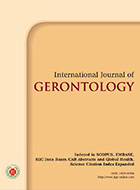 International Journal of Gerontology
Original Article
Factors Predicting Stroke Recurrence in Stroke Patients with Atrial Fibrillation
page 343~347
DOI: 10.6890/IJGE.202210_16(4).0006
Po HL, Lin YJ. Factors Predicting Stroke Recurrence in Stroke Patients with Atrial Fibrillation. Int J Gerontol. 2022;16(4):343-347.
Supplementary Material
No data
Abstract
Background: Following acute ischemic stroke in patients with atrial fibrillation, the risk of stroke recurrence is relatively high. The purpose of this study is to determine the factors that influence the risk of recurrent stroke.
Methods: In this registry-based prospective cohort study, we included patients with acute ischemic stroke and atrial fibrillation whowere admitted consecutively from December 1, 2012, to December 31, 2016. Patients were divided into 2 groups based on stroke recurrence. We tried to identify factors predicting stroke recurrence and evaluate the impact of treatment on recurrent ischemic events.
Results: A total of 511 patients (mean age, 76 years; 262 women) was analyzed. During the follow-up period, 58 patients (11.4%) had at least one ischemic event. The diameter of the left atrium in the recurrence group is larger (in millimeters) (39.6 ± 8.2 vs. 35.9 ± 6.9, p < 0.001), and is more likely to have left atrial enlargement (n = 32, 55.2% vs. n = 143, 31.6%, p = 0.001). Patients who received inappropriately low doses (n = 16, 27.6%) and who did not receive oral anticoagulation treatment (n = 25, 43.1%) were significantly higher in the recurrence group (p < 0.001). Surprisingly, the stroke severity at baseline in the recurrence group was less severe and the hospital stay was shorter.
Conclusion: Our study suggests that patients who have left atrial enlargement and receiving inappropriate low dose or not receiving oral anticoagulant treatment were associated with increased risk of recurrent stroke in patients with atrial fibrillation.