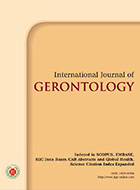 International Journal of Gerontology
Case Report
Treatment of Intractable Inappropriate Sexual Behavior with Low-Dose Finasteride in a Patient with Neurocognitive Disorder: A Case Report and Review of the Literature
page 303~304
DOI: 10.6890/IJGE.202207_16(3).0026
Wang PY, Lin Y. Treatment of Intractable Inappropriate Sexual Behavior with Low-Dose Finasteride in a Patient with Neurocognitive Disorder: A Case Report and Review of the Literature. Int J Gerontol. 2022;16(3):303-304.
Supplementary Material
No data
Abstract
We report the case of an 86-year-old male with a history of benign prostatic hyperplasia admitted to the acute psychiatric ward due to reports of inappropriate sexual behavior (ISB). After trying many psychotropic medications, the ISB was resolved with low-dose finasteride. This case demonstrates that low-dose finasteride may be a viable option as an alternative treatment option for intractable ISB; however, adverse effects, such as depression or cognitive complaints, should be closely monitored in patients with dementia to prevent post-finasteride syndrome (PFS).