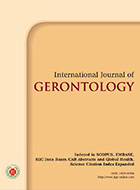 International Journal of Gerontology
Original Article
Safety and Effectiveness of Endoscopic Ultrasound-Guided Fine Needle Biopsy for Retroperitoneal and Gastrointestinal Tumors in Elderly Patients
page 254~256
DOI: 10.6890/IJGE.202207_16(3).0016
Lai JH, Lin HH, Chen MJ, et al. Safety and Effectiveness of Endoscopic Ultrasound-Guided Fine Needle Biopsy for Retroperitoneal and Gastrointestinal Tumors in Elderly Patients. Int J Gerontol. 2022;16(3):254-256.
Supplementary Material
No data
Abstract
Background: Endoscopic ultrasound with fine needle biopsy (EUS-FNB) is the most useful procedure to obtain tissue samples for confirmation of pancreaticobiliary disease. It was a relative mini-invasive procedure had low complication rate in overall patients. However, there was no study to observe the safety and effectiveness of EUS-FNB in elderly patients.
Methods: We compared the clinical which including the Charlson comorbidity index (CCI) and antithrombotic agents using in elderly patients, tumor factors and EUS characteristics between elderly and younger patients who underwent EUS-FNB in our hospital.
Results: Total we enrolled 41 elderly patients ≥ 70 years old who underwent EUS-FNB between April 2019 to January 2021. Most of the elderly patients had high Charlson comorbidity index, and there were 29.3% patients using antithrombotic agents. There were no significant differences in adverse events or cytopathological diagnostic rate between younger and elderly patients.
Conclusion: EUS-FNB is a safe and effective diagnostic procedure for elderly patients, even for those with comorbidities or who use antithrombotic agents.