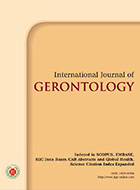 International Journal of Gerontology
Original Article
Prevalence and Risk Factors of Frailty Using Fried Frailty Phenotype Questionnaire among Older People in a Depopulated Area: A Cross-Sectional Study
page 231~236
DOI: 10.6890/IJGE.202207_16(3).0012
Onishi H, Mizukami Y, Tsubouchi H, et al. Prevalence and Risk Factors of Frailty Using Fried Frailty Phenotype Questionnaire among Older People in a Depopulated Area: A Cross-Sectional Study. Int J Gerontol. 2022;16(3):231-236.
Supplementary Material
No data
Abstract
Background: In recent years, there have been increased hospital admissions, readmissions, and emergency visits due to sarcopenia and frailty; thus, new countermeasures are required. Therefore, this study examined the prevalence and risk factors of frailty using the Fried Frailty Phenotype Questionnaire among older people in a depopulated area.
Methods: This study enrolled 106 older people who voluntarily participated in an extensive medical examination for the early detection of age-related diseases in the depopulated town of Wakasa in Fukui Prefecture. After obtaining written informed consent from all subjects, we conducted a basic questionnaire survey and physical function measurement, followed by a Fried Frailty Phenotype Questionnaire survey and explanation of the results by a physician.
Results: Of the 106 older people, 36.7%, 53.7%, and 9.4% were classified into the nonfrail, prefrail, and frail groups, respectively. Multivariate analysis revealed that hospital admission was an independent risk factor of frailty.
Conclusion: In this survey using the Fried Frailty Phenotype Questionnaire, 9.4% were frail, while 53.7% were prefrail; thus, more than 60% needed to improve their frailty status. Effective interventions to prevent frailty are required after hospital discharge. Frailty checks should also be simple and administered to many older people.