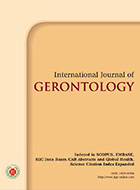 International Journal of Gerontology
Case Report
Clinical Application of Inhaled Ciclesonide and Enoxaparin for COVID-19 Pneumonia
page 144~146
DOI: 10.6890/IJGE.202204_16(2).0013
Kuo KC, Wang CJ, Chung HP, et al. Clinical Application of Inhaled Ciclesonide and Enoxaparin for COVID-19 Pneumonia. Int J Gerontol. 2022;16(2):144-146.
Supplementary Material
No data
Abstract
The novel coronavirus disease 2019 (COVID-19) pandemic is a threat to global public health. The disease is caused by severe acute respiratory syndrome coronavirus 2 (SARS-CoV-2) infection and characterized by high transmission, high mortality, lack of effective treatment, and prolonged hospitalization. Currently, there is no clear management strategy for COVID-19 infection. Some clinical evidence suggests that the use of inhaled ciclesonide and enoxaparin subcutaneous injection maybe helpful for disease treatment. In this article, we report the successful treatment of a 65-year-old male with COVID-19 pneumonia with Inhaled corticosteroid and enoxaparin subcutaneously, which also shortened the course of the disease without significant complications.