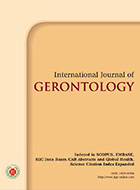 International Journal of Gerontology
Original Article
Development of an Age-Friendly Health Service Recognition Framework for Primary Health Centers in Taiwan
page 58~63
DOI: 10.6890/IJGE.202101_15(1).0012
Shih CI, Hsu YH, Yang HF, et al. Development of an Age‐Friendly Health Service Recognition Framework for Primary Health Centers in Taiwan. Int J Gerontol. 2021;15(1):58-63.
Supplementary Material
No data
Abstract
Background: The proportion of older people is increasing rapidly, bringing tremendous challenges for health services. Primary health centers (PHCs) play a primary role in providing health care to older people. Developing an age-friendly health service recognition (AFHSR) framework for PHCs in Taiwan and evaluating the reliability and validity of this framework are essential.
Methods: Research was conducted in four stages. First, the initial AFHSR framework was developed based on the health promoting hospital standards. Second, experts (N = 33) including public health researchers, hospital and PHC directors, physical environment architects, and nongovernmental organization managers, modified the framework. Third, two rounds of content validity testing were conducted. Fourth, 25 PHC managers applied the AFSHR framework to evaluate performance.
Results: The AFHSR framework included two chapters, five standards, and eighteen items. The two chapters were organization management and care services. The five standards were management policy, information intervention and communication, friendly environments, health promotion, and community service and referral. The validity for the framework was 0.96 and for the two chapters was 0.98 and 0.93, respectively. The Cronbach's of reliability for the whole framework was 0.91 and for the two chapters was 0.85 and 0.81, respectively.
Conclusions: The AFHSR framework for PHCs is reliable and valid for primary health care in Taiwan.