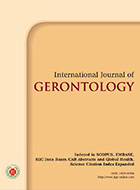 International Journal of Gerontology
Case Report
Case Report of Gastric Volvulus (Twisted Stomach) with Borchardt's Triad
page 147~149
DOI: 10.6890/IJGE.202204_16(2).0014
Yeh CM, Tsai KC, Huang CY. Case Report of Gastric Volvulus (Twisted Stomach) with Borchardt's Triad. Int J Gerontol. 2022;16(2):147-149.
Supplementary Material
No data
Abstract
Gastric volvulus is a rare disease that can be fatal if misdiagnosed or if treatment is delayed. We present the case of a 94-year-old woman who visited our emergency department with classic symptoms of Borchardt's triad (severe epigastric pain, intractable retching, and inability to pass a nasogastric tube). Chest plain radiography revealed an air-fluid level appearance superposed with the cardiac contour. Contrast-enhanced abdominal computed tomography revealed mesenteroaxial gastric volvulus with hiatal hernia of the stomach. The patient underwent surgery and recovered well. Herein, we present the case findings and perform a literature review on gastric volvulus.