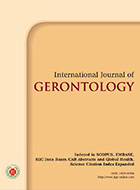 International Journal of Gerontology
Original Article
Place of Death under Home-Based Palliative Care Services for Older Patients in Urban Areas
page 284~287
Supplementary Material
No data
Abstract
Background: The preferences for place of death at home were reported in many articles. But it is getting more difficult in urban area and the trends of death in the institution was increased. We examined the place of death of elder patients who received the hospice home care in highly urbanized area.
Materials and Methods: There were 403 patients enrolled in home care service between 2017/1/1 and 2018/12/31. The eligibility criteria were those who were more than 65 years old and passed away during the study period. The gender, age of registration, disease, place of death, duration of caring, length of stay, primary care sites were examined.
Result: There were 116 females and 103 males enrolled. Among of them, 114 of cancer and 32 of non-malignancy patients died in the hospital. The place of death of cancer patients were significant higher in hospital (p < 0.05). Whether the primary care site was home or care home, most of patients died in hospital (p < 0.001). The similar result was also noted in the duration of caring.
Discussion: Place of death is determined by multiple factors and is therefore dependent on individual circumstances. In our study, the ratio of hospital death was higher than other articles. This may indicate the higher chance of hospital deaths for the older people who received hospice home care service in urban area. Our study indicated that cancer patients trended toward hospital death (p < 0.05). The experience of hospice admission may also result in more hospital deaths in our study.